Our Servers
Hardware
All of our shared hosting servers are Dell Power Edge Servers
Xeon i7 CPU's 32 cores
32GB or more RAM
NVMe SSD Drives
Operating Software
CentOS+ Cloud Linux 7
KernelCare
CageFS
PHP Selector
Apache 2
ASSP Anti SPAM
PHP 7
MySQL
Perl
CGI
Account Software
WHM          *Re-Seller Accounts
WHMCS     *Available on Re-Seller Accounts
cPanel
Softaculious
Jet Backup Manager
Hivelocity Data Center
Atlanta 1 Data Center
Top 10 Network icon Rated 'Top 10 Performing Network
IRP Premium Blend of 8 Transit Providers Included
(Level 3, TWTC, XO, Telia Carrier, Seabone, Cogent, Century Link & NTT)
100% Network uptime since 2016 commissioning
260Gbps network capacity
Privately peered with 300+ networks
DDoS protected
Noction IRP Routing Protocol
40Gbps ports available
All data centers interconnected
Level 3, Cogent, XO, & NTT. TIE Peering Exchange with routing optimized for performance across our national network. Cross-connections available
Reliable power icon Reliable Power
100% Power uptime
Diesel generator power redundancy
1000 gallons of diesel fuel allowing
24 hours generator run time
N+1 high efficiency battery UPS
120V & 208V power available
Controlled server environment icon Controlled Server Environment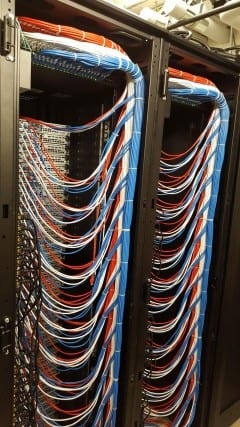 234 Tons of N+2 CRAC cooling
Dry pipe dual-interlock pre-action overhead fire suppression system
Secure Physical Environment icon Secure Physical Environment
5,000 square feet of raised floor data center space
Dual-factor authentication for entry
30 story high-rise building in downtown
Routine Preventive maintanence on all critical infrastructure assets
24/7 Falcon monitoring of all critical infrastructure assets
24/7 on-premise staff
24/7 monitoring of all facility entry points
20+ motion activated cameras throughout facility
Man-trap entrance
Audits Certification icon Audits & Certifications
SSAE-16 SOC 2 Type 2 Certified
PCI compliant
Liquid Web Data Center
Liquid Web Data Centers
FatCat Servers web hosting has servers are located in state-of-the-art data centers operated by Liquid Web. Conveniently located in Central US, Lansing, Michigan. This is optimally located for North America
Liquid Web data centers, manned 24/7/365 by  onsite, highly trained Heroic Support® technicians, feature some of the quickest response times in the industry. These data centers also feature numerous zones for added redundancy, as well as the ability to team with our US-West region to provide true Geographic Redundancy in multiple disaster-neutral US locations.
Tier-1 Premium Bandwidth
Providing the highest quality Internet connectivity and performance is our top priority. We have selected premium Tier-1 bandwidth providers, ensuring minimal latency and fast connections to all points of the global Internet. We are proud to feature direct connectivity with Cogent, Level3, Verizon, and Comcast. Our aggregate connectivity reaches an astounding 8,500+ networks just a single network away from our uplinks.
Power System
Our power systems feature extensive fault tolerance and resilience at every layer. From multiple uninterruptible power supplies (UPS) with redundant battery cabinets, to Liebert Precision and Eaton Power distribution units that handle final power transformation and distribution to racks, we ensure clean and consistent power to our data center equipment. Additionally, each facility has multiple emergency generators waiting on standby.
Cooling System
Environmental processing systems include redundant Liebert Precision 22 ton up flow air conditioning units. Temperature and humidity are precisely regulated year round to ensure optimal equipment reliability. Each unit contains independent compressors and cooling loops to further enhance fault tolerance and reliability. Air filtration systems actively remove foreign particles from circulation and cycle the entire data center air supply in a matter of minutes.
Softlayer Data Centers
SoftLayer Data Centers
FatCat Servers houses web hosting servers in several data centers operated by SoftLayer owned by IBM. SoftLayer houses more than 180,000 web hosting servers and is one of the largest Data Center Service Providers in the world.
We are currently housing web hosting servers in three separate SoftLayer data centers Houston Data Center 1 (H1), Houston Data Center 2 (H2), Dallas Data Center 6 (D6).
About SoftLayer Webhost Data Center Design
All SoftLayer hosting data centers are built upon SoftLayer's unique pod design concept, making them functionally independent with distinct and redundant resources, and fully integrated through SoftLayer's revolutionary network architecture.
Data Center Pod Concept
Each data center facility features one or more pods, each built to the same specifications with best-in-class webhost methodologies to support up to 5,000 web hosting servers. Leveraging this standardization across all geographic locations, we optimize key data center performance variables including: space, power, network, personnel, and internal infrastructure.
Houston Data Center 1 Specifications
Capacity: more than 13,000 dedicated Web hosting servers
5000 amps 480v Input Power
5 x 375 KVA UPS Battery Backup Units
1 each 2000KW, 1500KW &1250KW Diesel Gens with On-site Fuel Storage

Redundant Data-Aire 26-ton HVAC Units
Pre-Action Dry Pipe Fire Suppression
Proximity Security Badge Access
Digital Security Video Surveillance
Houston Data Center 2 Specifications
Capacity: more than 17,000 dedicated web hosting servers
9000 amps 480v Input Power
8 x 500 & 4 x 375 KVA UPS Battery Backup Units
4 x 2000 KW Diesel Generators with On-site Fuel Storage

Redundant liebert 30-ton HVAC Units
Pre-Action Dry Pipe Fire Suppression
Proximity Security Badge Access
Digital Security Video Surveillance
Dallas Data Center 6 Specifications
Capacity: more than 19,000 dedicated web hosting servers
9000 amps 480v Input Power
2 x 750 & 8 x 500 KVA UPS Battery Backup Units
4 x 2000 KW Diesel Generators with On-site Fuel Storage

Redundant liebert 30-ton HVAC Units
Pre-Action Dry Pipe Fire Suppression
Proximity Security Badge Access
Digital Security Video Surveillance