Burns Tobacconist was founded in 1999 and from the start we have had a singular goal: be the best cigar store you can find.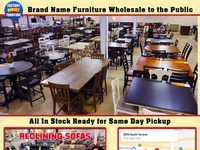 Brand Name Furniture Wholesale to the Public!
At North Georgia Equipment Sales, we have everything you need to get the work around your house, farm or acreage done!
Schools and Educationial
Schools and Educationial
Welcome to the Chickamauga City School System---a system rich in tradition, yet innovative and aggressive in preparing students to meet the challenges of the future.
Home of the Ooltewah High School Band